KINDERGARTEN ... POM POMS
Inauguration of New Pre-Primary Block: SMHS has added a new feather to it's cap. An exclusive, colourful Pre-Primary block was inaugurated on 11.06.2018.This block has an activity corner to build the various skills of pre-school learning, an exclusive library and a play arena that makes children to innately love learning. See more images here
Building Blocks: This competition was conducted on 27/06/2018 for Nursery. The colourful blocks of various sizes were given to the children. Each child was given a task to make buildings in various shapes and sizes. The hidden talent was explored in a creative way. The skills developed are self expression by learning constructive play way method.
Getting Ready to School: This competition was conducted on 27/06/2018 for PP I and PP II This activity is conducted to help the child to learn how to get ready to school and the value of time.
Touch and Feel: This competition was conducted on 30/07/2018 for Nursery. Different objects of different shapes were placed in a Feely Bag. Each child was asked to put their hand in the Feely Bag and touch the object. Each object is made to touch and tell the name aloud. They can feel the different textures of the objects in the Feely Bag. The sensory experiences make the children to become overall learners. Through this competition the fine motor skills are developed.
Sorting Out: This competition was conducted on 30/07/2018 for PP I. The sorting out competition will teach children sequential manner of comparing objects, matching same size, shape and colour. This competition encourages students to talk about concepts of Math that sharpens their thinking skills.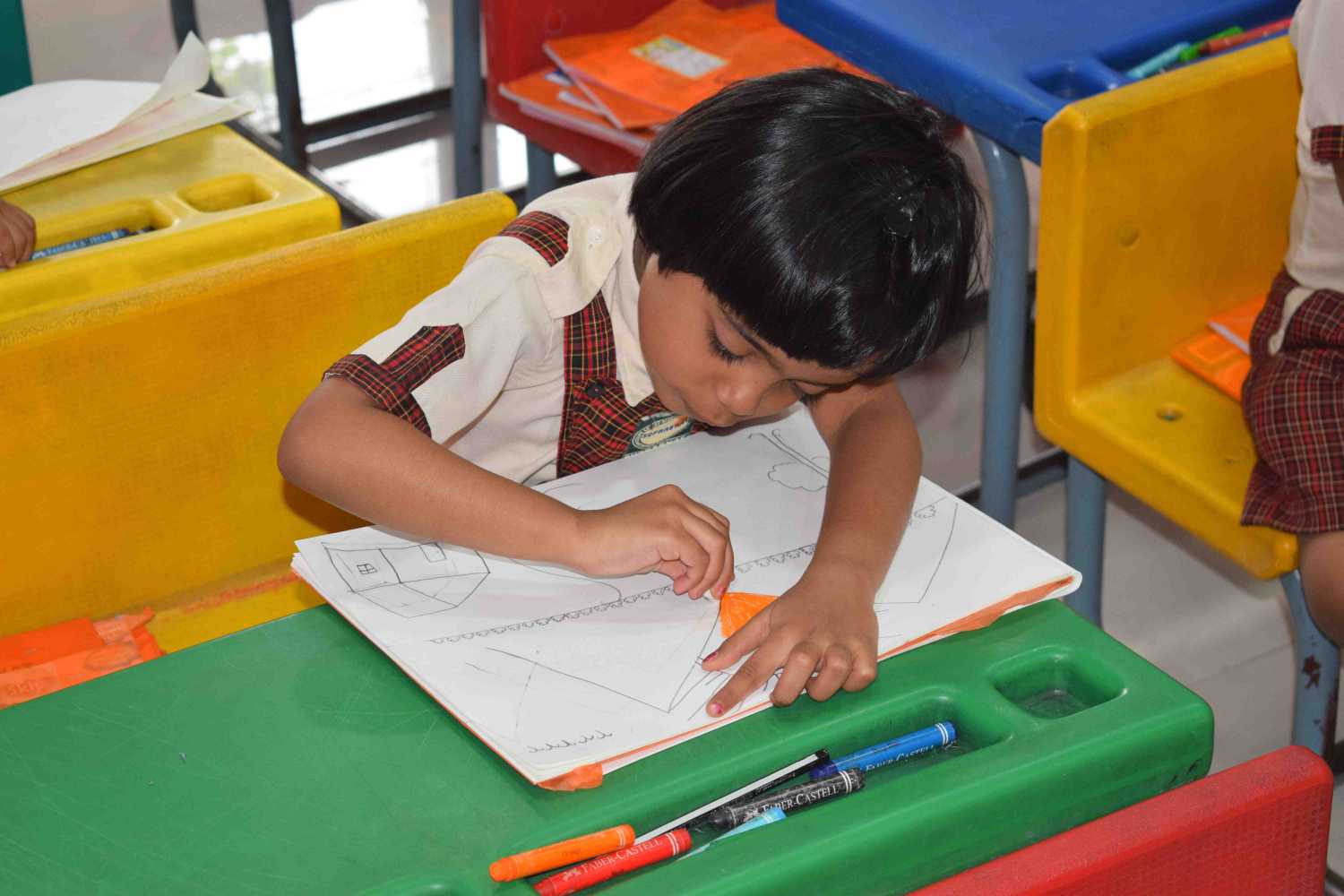 I can draw: This competition was conducted on 30/07/2018 for PP II. By doing free hand drawing, children develop creativity and confidence in them. It also develops the visual spatial skills needed during the activity.
Solve the Puzzle: This competition was conducted on 09/08/2018 for PP II Students. The basic skills built are
Physical Skills: From holding puzzle pieces and turning them until they fit.
Cognitive Skills: As they solve the problems of a Puzzle.
Emotional Skills: As they learn to be patient.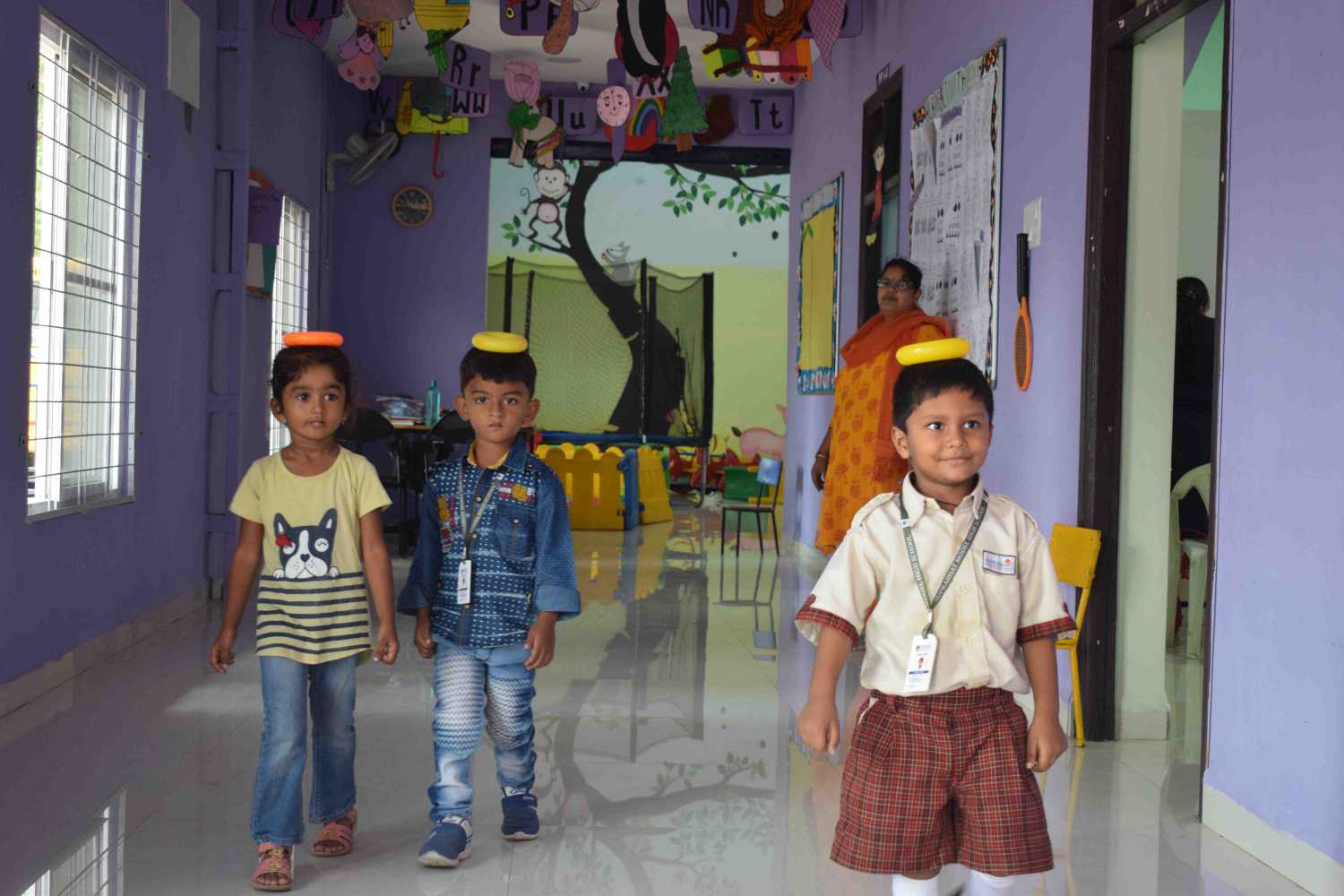 Balancing: This competition was conducted on 09/08/2018 for PP I. This competition helps the children to be sportive. The motor skills play an important role in this competition along with the balancing movements.
Grandparents Day: Grandparents make the world - a little softer, a little kinder, a little warmer. Grandparents are a library, personal game centre, best cooks, best support, awesome teachers and a world full of love all packaged together in two bodily souls. SMHS PRE-PRIMARY children celebrated the Grandparents day on 15th September. Grandparents enjoyed their Grandchildren's dance performances and participated in fun games. Mr. Grandpa and Ms. Grandma were chosen. A combination of hand prints with Grandparents and their grand child was a highlight of the show which was a take home goodie.
Dussehra Celebrations: Tiny tots of SMHS celebrated Dussehra on 08.10.2018. Teachers spoke about good over bad by narrating various stories related to the festival. Dandiya and Kolakattam performance by the children and the Teachers made the day more colourful.Take away of small Bathukama by the children added joy to their festive mood.
Diwali Celebrations: Diwali means 'Festival of lights' and it also symbolises Good over Bad. Pre - Primary students celebrated the Eco friendly Diwali on 5th of October 2018. KG students participated in a song performance and made their peer group enjoy. They Said 'No' to bursting crackers. Take away gift for the students was a self decorated clay diya.
Splash Day: The little ones of PP SMHS, welcomed the showers of water (rain) with their first pool activity on 31.10.2018. Bubbling with excitement and enthusiasm in their colourful raincoat, cap and umbrella, the children thoroughly enjoyed the splash pool activity. Jumping in the water, splashing water on their friends and playing with them made the splash day a memorable one.
Cartoon Day: Pre-primary of SMHS celebrated the cartoon day on August 10th 2018. The children came dressed colourfully They opportunity to watch two cartoon movies. This day bonded the kids well and brought out the best childhood innocence.
Mock Restaurant: As part of October month theme Table Etiquette, Mock Restaurant activity for Pre - Primary was conducted on 26.10.2018. In order to conclude the theme the children gathered for a pot along lunch and shared the delicious dishes brought from home. This activity helped them to learn table manners.